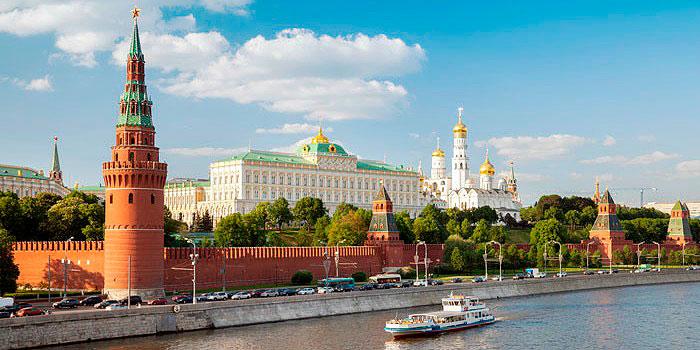 Welcome to Russia and Go Russia Travel Company! To many people, Russia is a very cold country, however our hearts and souls are warm and we welcome guests with open arms.
Russians
are amongst the most hospitable people in the world, with old traditions of friendliness and generosity...
Come to Russia and experience yourself the kindness and cordiality of this giant land with the help from Go Russia travel experts. Go Russia is the trading name of GR Travel Group Limited, a leading UK-incorporated tour operator, specialising in vacations in
Russia
and other countries of the former USSR,
Mongolia
and
China
. Please read more about us below.
There are so many myths and stereotypes about Russia, and we are sure that right now - while reading this - you are trying to think and remember what you know about this country. Maybe you think that Russians drink a lot of vodka, wear fur hats, don't smile much and are superstitious? Some of this is true! But, did you know that Russia is actually quite diverse too with over 185 different ethnicities? Or, that the delicious Australian dessert "Pavlova" was created in honor of the world famous Russian ballet dancer Anna Pavlova? Or maybe you remember that the first astronaut Yurij Gagarin, was Russian?
There is a lot more to Russia than just a few preconceived notions, but if you are wondering if Russians still wear fur hats or if old babushkas do exist, join us and discover yourself! We would like to show you the real Russia and to help you to break stereotypes, even if sometimes they turn out to be surprisingly accurate!
Here, at Go Russia we excel at helping you to plan your holidays to Russia. Go Russia offers standard group tours -
cultural and sightseeing tours
to Russia and the republics of the former Soviet Union,
Russian waterway cruises
,
adventure holidays
and
tours on the Trans-Mongolian railway
as well as Silk Road; and
tailor-made itineraries
to suit your personal interests, your timeframe and your budget.
Award winning company. Russia's Leading Inbound Travel Agency 2012.


Genuine experts. Over 40 years Russia and ex-USSR combined experience. All our staff is passionate about travel and have extensionally traveled in Russia and former USSR.


Exemplary customer service. Almost 99% of our customers said they are satisfied with the knowledge and expertise of our travel consultants to provide a quality service.


Highly ranked on Tripadvisor. Read unbiased trusted Go Russia reviews on the Tripadvisor website.


Total financial protection. We are a fully ATOL bonded operator and are also covered by insolvency insurance.


Unrivalled technology. Easy and convenient secure online booking system. User-friendly personalised online booking tools and customized Go Russia account.


Best value for money. Our prices are among the best on the market. And on top we often release free upgrades and special offers. Read about Go Russia fair dealing and price guarantee


Peace of mind. 24 x 7 emergency hotline phone and local representatives


Green Company and we follow responsible tourism policy


Professional individual approach:

Thoughtfully and meticulously designed itineraries by our in-house product team
Only certified English-speaking guides (other languages also available)
Small and medium size groups
Guaranteed departure dates and no cancellations
Personal advice and consultation prior to and during every booking
Free visa support and practical guidance. Visa included on most of our tours
Variety of activities and optional tours. Different levels and age groups
We thrive on feedback! Every client receives a questionnaire asking about their experience with Go Russia, from the initial enquiry to total holiday satisfaction. We learn and improve all the time as a result of
your feedback
. Here is some statistics:
Our Customer Service Team
Almost 99% of our customers said they are satisfied with the knowledge and expertise of our travel consultants to provide a quality service.
The main reasons why we were chosen
We are really proud of this: 50% of our customers have looked at our competitors but have chosen Go Russia for their holiday. Why is that?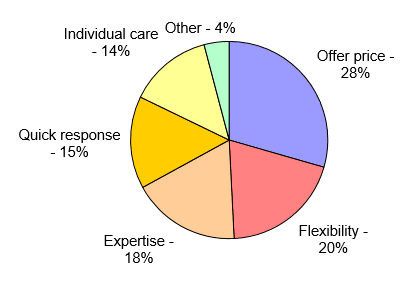 Source: Go Russia Feedback Survey, update November 2016
29% - Offer price. We are proud to be able to provide the highest quality tours at the most competitive prices. We believe that travel does not need to be expensive and it should be affordable to everyone. We achieve this by working without intermediaries and having long-established contacts with local partners. If you find a similar tour at a lower price, we guarantee we will match the price offered by any reputable competitor. Fair dealing and price guarantee.


20% - Our flexibility with tour arrangements. More than half of our customers have booked some extra tours or services with us. We would like you to have the most memorable holidays and are happy to help you to create the perfect trip with Go Russia! We always listen to your ideas and design your trip around your requirements – traveling off beaten track, booking theater tickets, arranging meals or eating with locals in a small authentic local café, or meeting local families.


18% - Our knowledge and expertise. All of our staff is passionate about travel and have extensionally traveled in Russia and the former USSR. We know our destinations better than anybody else – we are from - or have lived - in our specialist regions.


15% - Quick response. We understand that time is of the essence when planning holidays and we aim to respond as quickly as possible. Normally we reply within 24 hrs to the standard requests such as standard package tours, or regular visa queries. And our response time to tailor-made trip inquiries is between 24-48 hrs depending on the holiday complexity. Our working hours are Monday - Friday 09:00 - 17:00 New York time, so if you submit your request over the weekend, we will respond within the next couple of working days.


14% - Friendly and individual care. From the point of you contacting us until your trip finishes we would like you to feel comfortable and at ease. We are here ultimately to design your dream trip. All our staff have traveled extensively and are happy to assist you with any, even the boldest, ideas for your trip! No question or query is unimportant or petty when creating your perfect holidays - you can ask us anything and if we don't know the answer, we know how to find it!
How do you feel once you have completed the trip with us?
Over 96% of our customers said they would recommend Go Russia to their friends. This is very appealing to us but still we think we can do a better job and our target for 2017-2018 is 98%.
We believe that you have read a lot about our company so far and are now ready to make a sound decision and trust your holiday to Go Russia experts. As a reward for your careful research we would like to offer you a $25 discount per person. Please use the code
SOUNDDECISION
to claim your discount.
Terms and conditions of the "Sound Decision Bonus": to be eligible you must quote the code to your travel consultant / enter and validate the code in the online form when booking online, no post-booking claims will be accepted; only one claim per person during calendar year; only applies to bookings over $250 per person.
Recommend a friend to Go Russia and if they book a holiday or any other travel related service with us we will give you both a $50 discount per person to say "thank you". Read more about our
recommend a friend scheme
.
OUR LEGAL ENTITY
We are a UK incorporated company registered according to the English law and our head office is located in London. Our legal name is GR Travel Group and our trading name is Go Russia. Our official UK company registration number is 05381495.
Our head office is located in London. It is where all decisions are made; it is the main hub of our customer services and product development teams. We also have support and processing offices in USA, Germany, Russia and Ukraine where customer services and operations staff are located looking after your trip preparation as well as smooth running of all our tours. Should you require any additional information about our company, our tours or just need advice, please do not hesitate to
contact us
.
Just go and explore the wonderful possibilities of traveling with Go Russia! We wish you a pleasant journey!
Go Russia - Expertise with Passion!
Yours,
Go Russia Team
Go Russia - www.justgorussia.com.
Classical cultural, discovery and luxury holidays in Russia and former USSR countries, including tours to Moscow and St. Petersburg, Trans-Siberian and Trans-Mongolian journeys, Russian river cruises, discovery trips to Kamchatka, Elbrus, Altai.
SkyandSpaceTravel.com - www.skyandspacetravel.com.
Supersonic flights on modern Russian military fighters Mig-29 for tourists. Besides supersonic aerobatics you can experience a flight to the edge of space (altitude 23 km). Tours to Baikonur cosmodrome.
China & Beyond - www.china-and-beyond.com
Inspiring Small Group Travel to China, Mongolia & Silk Road. Tour packages suit different tastes, travel styles and budgets with standard, luxury and authentic options.
Best of Caucasus – www.best-of-caucasus.co.uk
Travel to Caucasus, visit Georgia, Armenia and Azerbaijan
EdemVLondon.ru - www.edemvlondon.ru.
Leisure and business incoming travel from Russia and former USSR countries into the UK, in particular London.