Need to Know - Elbrus Climbing
Elbrus Climbing
Please read this section in conjunction with Go Russia
General Info on Adventure Tours
,
FAQ Adventure Trips
and view a suggested complete
First-Aid Kit Checklist
for your trip. Please
contact us
to obtain information on the medications available from your guide on site. Please also note to guarantee professional service level and first-hand experience we have personally inspected the area and a member of our staff participated on a Elbrus climbing tour.
SECURITY
CLIMBING CONDITIONS
PERSONAL SAFETY
HEALTH ISSUES
SPECIAL EQUIPMENT REQUIRED
ACCOMMODATION
TRAVEL INSURANCE
GUIDES PROFILES
SECURITY
Please be aware that US Department of State advises against all travel to the Elbrus area. For more details please visit:
https://travel.state.gov
Elbrus being one of the seven summits is a very popular mountain and attracts different climbers from all over the world. To the best of our knowledge no foreign tourists climbing the mountain have been a victim of terrorist attacks in that particular region.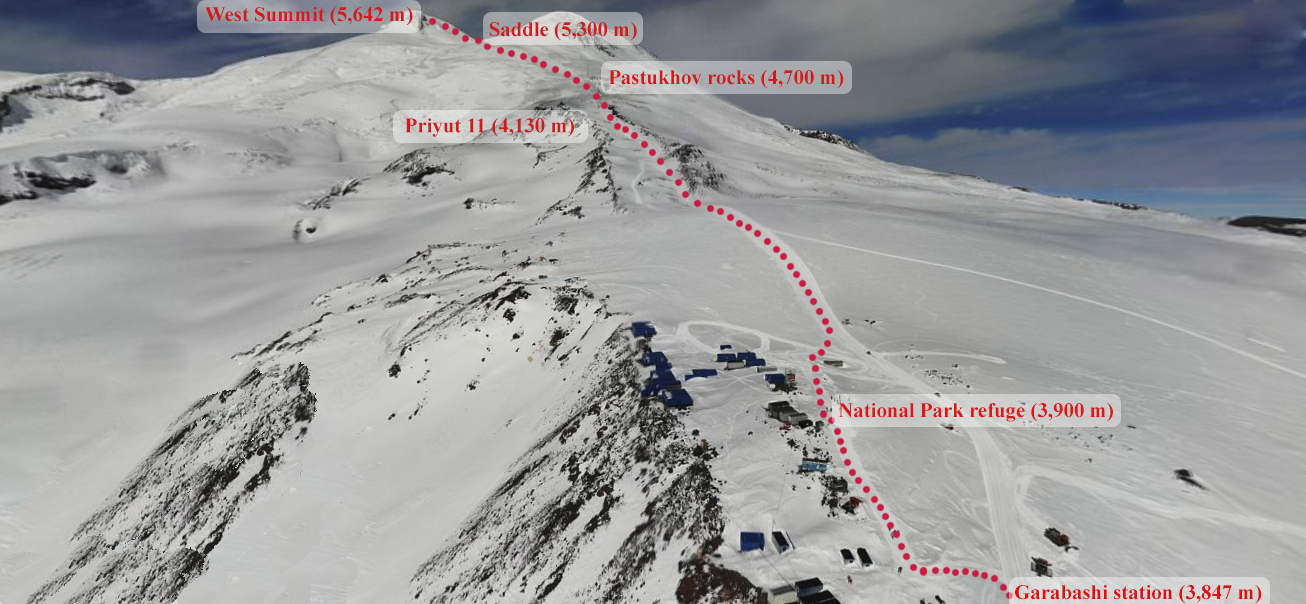 For guiding this climb we always use experienced top-skilled Russian mountaineers. Systematic acclimatisation is essential prior to making the ascent. The climb itself may take between 6-10 hours; the descent another 4-6 hours. The main obstacles are high altitude, fog, wind and the cold. This is a fine ascent which is more a test of stamina rather than a technical task, although high altitude and unpredictable weather make for a challenging and adventurous trip. Although the climb is not technically difficult but requires crampons and an ice axe. It is a very achievable challenge which requires proper cold weather clothing and basic mountaineering skills which you can develop during the trip.
And our guides explain use of the ice axe on your free acclimatisation day on the Bochki camp or any other day depending on weather conditions and other factors on a trip. Any necessary climbing skills will be taught during this trip so mountaineering experience is not required.
IMPORTANT: climbers are expected to be in good physical condition
.

our booking conditions
your booking is accepted on the understanding that (1) you realise and accept the risks and hazards potentially involved in adventure holidays and that (2) you are mentally and physically capable of undertaking your chosen trip. You must tell us if you have an existing medical condition or disability that might affect your travel arrangements before your booking. If you suffer from
hypertension
, diabetes
, cardiovascular
disease,
brain disease
- you will not be allowed to participate in this tour.
During the tour you must fully abide by the authority and decisions of our employees, tour leaders, and suppliers. The decision of these people as to the conduct, itinerary and objectives of the tour is final and if, in their opinion your behavior or physical condition is detrimental to the safety, welfare and well-being of the group as a whole (which are the paramount considerations), or they consider that your general well-being will be put at risk by continuing with the trip, you may be asked to leave the tour without the right to any refund for unused services.
Upon your arrival in Elbrus area you will have a safety briefing at your hotel with your guide and other group members. The guide will explain your day-to-day itinerary, time schedule, how to prepare for the ascent, safety rules and also check your personal equipment. At this stage you will be required to sign the paperwork that you have read and understood "The Safety Rules" which you must follow during your tour and you consider yourself to be in a good physical condition and capable of taking part in the ascent.
Download "The Safety Rules Declaration".

High Altitude Pulmonary Edema
and
Cerebral Edema
which could be fatal. Unfortunately youth, good fitness and previous experience at high elevations do not necessarily mean that you will be less likely to have problems with altitude.
The symptoms of AMS include: Headache, Dizziness and nausea , Loss of appetite, Disturbed sleep, Shortness of breath. The best medicine is prevention and there are some things that climbers can do to to minimize their risks of illness and improve their performance:
The mountaineer's dictum "Climb high, sleep low" is the best method to prevent AMS;
Stay properly hydrated (drink at least 4-6 liters of liquids per day). Urine output schould be copious and clear to pale yellow;
Eat a high calorie diet while at altitude;
Take it easy and don't push yourself when you get at altitude;- A slow and steady pace will carry you much higher and easier;
Avoid tobacco, alcohol and any depressant drugs.
If the symptoms increse go down! These are guidelines only! For more detailed and professional information regarding the AMS please refer to the following links: www.traveldoctor.co.uk, www.thebmc.co.uk, www.ismmed.org

Climbing equipment
Double plastic boots
Crampons: step-ins or strap-on (10-12 point), check that the boots fit beforehand. Point protectors are also useful for storage and adjusting tool
Ice axe: general mountaineering – normally 65cm. – preferable to have rubber end protectors
Climbing harness with carabiners
Trekking poles
Gaiters
Clothing
The key to clothing is the layering system. Layers can be added or discarded with temperature fluctuations. The first layer is a form of synthetic underwear that draws moisture away from the skin and dries quickly. This is followed by two or more insulating layers, also preferably of synthetic pile and a windproof outer layer. This system applies not only to the torso but also to extremities.
Hiking boots
Socks: liners - medium weight and heavy, at least few pairs of each
Lightweight long underwear, top and bottom
"Expedition-weight" long underwear, top and bottom
Pile jacket
Pile trousers
Windbreaker, waterproof/breathable
Wind pants, waterproof/breathable
Synthetic or down parka with hood. If you cannot provide this you must be sure of providing an extra warm fleece to compensate and a windproof outer jacket. This is seldom worn whilst climbing but most appreciated during meals, in camp and in pre-dawn hours of cold summit days
Balaclava or something to cover the face like a neck warmer or even a scarf
Sunhat, wool or fleece hat (warm with ear flaps)
Mitts with gore-Tex or waterproof shells or one pair of very warm gloves with inners
Camping equipment
Rucksack (min. 65 liters)
Day pack (around 35-40 liters) used for valley hikes and summit mornings
Sleeping bag 3 seasons (rated to -10 - -5 degrees C). The huts are relatively warm
Water bottles - 2 x 1 liters capacity. (Platypus, Nalgene bottles or thermos)
Sunscreen and lip balm
Headlamp
Sunglasses (100% UV)
Goggles - optional (useful for contact lens wearers or in bad weather)
Other
Equipment rented locally
You can rent locally some of the necessary climbing equipment (prices are in EUR per day). You need equipment for 4-5 days:
Plastic climbing boots - 8-10 EURO (max size - 47, min size - 35)
Crampons - 5 EURO
Ice axe - 5 EURO
Poles - 5 EURO
Carabiner - 1,5-2 EURO
Harness - 2 EURO
A piece of rope for self belay - 1 EURO
Sleeping bag - 7 EURO
Down mittens - 4 EURO
Down jacket - 10 EURO
Gore-tex jacket - 7 EURO
Gore-tex trousers - 4 EURO
Gaitors - 3,5 EURO
Wind proof mask - 5 EURO
Head torch - 2 EURO
Sun glasses - 4 EURO
Thermos - 2 EURO
Snow cat / rat rack
- approx. 500 EUR per one drive for a group of 2-10 persons. From barrels hut to the Pastukhov Rocks.
Note
:
Please
consult us
about climbing gear and renting possibilities. Please note that Go Russia does not guarantee rental prices! While we aim to provide the most updated and accurate information on all services including rental possibilities it is not always possible due to various reasons. All hire companies are privately owned and operate their business independently. We do apologize for this, but this is not what we can control or influence.

On the way up to the summit of Elbrus it is easier to stay overnight in the huts. So we use the well-known
Refuge of Elbrus National Park
situated at the end of the last chair lift. The camp is placed on Garabashi hill on the slopes of Elbrus at approx. 3,900 m. These are small houses with rooms for 4 people. There is also a canteen with kitchen facilities in the separate hut. There are no showers, toilets are located in a separate hut.

We include in the tour price insurance policies for all travellers not older than 65 years. If you are 65 years and older there will be a surcharge of $70.
Insurance cover
Please note your insurance cover is valid only for the dates you are in Elbrus area. Extreme sports covered: mountain climbing, mountaineering.
Cover
Sum insured per person
Doctor call
50,000 $
Outpatient treatment
50,000 $
Hospitalization
50,000 $
Emergency dentistry
250 $
Transportation to doctor or hospital including use of helicopter
10,000 $
Phone calls to the service centre
30 $
Transportation of remains / repatriation
50,000 $
Exacerbation of chronic diseases
3,000 $
Dangerous fevers, including COVID-19
50,000 $
Loss and theft of documents
50,000 $
Legal aid
50,000 $
Medical transportation and other expenses per person
Search and rescue activities including helicopter
5,000 $
Helicopter evacuation
10,000 $
Return home costs
50,000 $
Early return home costs as per p. 10.3.4 of the insurance rules
50,000 $
Third person visit
50,000 $
Scheduled flight delay of more than 4 hours
per hour no more than 50 $

GUIDES PROFILES
Name

: Pavel


Occupation

: Qualified Teacher of the Russian Federation


Education

: MSc


Achievements

: Mountaineer, referee, international rank C in skiing


Home

: Piatigorsk
Pavel's interest in mountaineering started 27 years ago and since then he's been successfully combining his full-time teaching job with his lifelong passion for mountains. He's been leading expeditions to Elbrus since 1984 and also working as a ski instructor on Elbrus since 1988.

Name

: Igor


Occupation

: climbing guide and skiing instructor, specialist in industrial mountaineering


Education

: MSc


Achievements

: candidate for Master of Mountaineering, world class rock and ice climber, winner of numerous Ukrainian Rock and Ice Climbing Championships


Home

: Ukraine
Igor has been attracted to this adventurous profession from the age of 28. He has devoted his spare time to conquering mountains in different seasons and - as often happens – his hobby became a profession. Guide on Elbrus since 1989 and ski instructor since 2002.

Name

: Elena


Occupation

: climbing guide, tour leader, manager


Education

: MSc


Achievements

: candidate for Master of Mountaineering, 10 ascents of peaks over 7,000m (former USSR)


Home

: St. Petersburg
She has got it all! Impressive achievements and an exciting life! Elena's experience in mountaineering is vast – 27 years of climbing, 17 years as an instructor, more that 20 years leading groups (including schools) on Mt Elbrus.