Navy Day in St Petersburg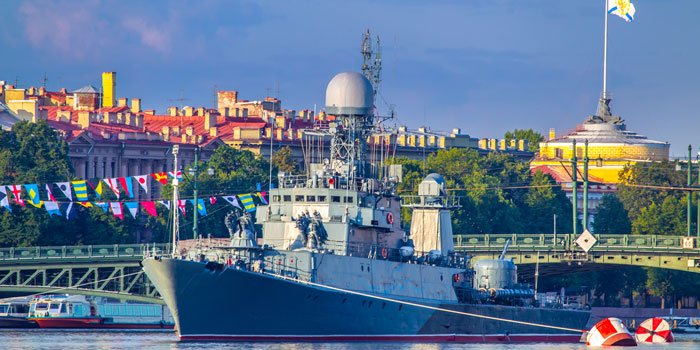 Like all great maritime cities, St Petersburg has a longstanding relationship with the sea and its defense. You won't spend long in the city as a tourist before you find yourself beside its many canals and waterways; many of the city's most impressive mansions and museums line the riverbanks. What's also soon apparent is the centuries of history: Emperor Peter I founded the Russian fleet to defend the country from possible attack. Originally, it was held in June before being moved to July in 1980. Summer, with its long days, is perfect for visiting St Petersburg – that extra daylight makes it easier to fit in all that sightseeing.
The tradition of Navy Day wouldn't be associated with the city until 1939. These days, warships from the Northern, Black Sea, Baltic and Pacific fleets pass along the Neva River to cheers from the waiting crowd. It's a chance to flex those military muscles with a demonstration of combat power, weaponry and a flypast featuring naval aircraft and helicopters. Late into the evening, a celebratory concert prolongs the party atmosphere as a fireworks show reflected in the Neva provides the spectacular finale.