Ulan-Bator - Beijing Train
Overnight rail connection between Mongolia and China.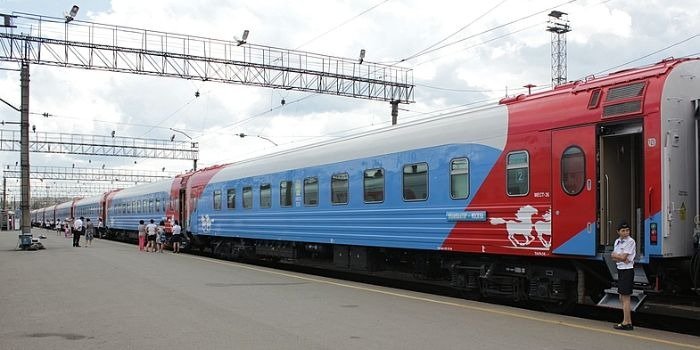 Travelling by train 24 / K23 is probably the most popular way of getting from Mongolia into China and vice versa and you will find more foreigners than local people on this train. This is a good chance to meet people from all over the world and practice your French, German or maybe Italian. You will meet students and university graduates, professionals and retired people and English will definitely be the most spoken language during your journey. And everyone will have his or her own story to tell why they are on this train.
There are 1st class (2 berth compartment with one lower and one upper berth) and 2nd class (4 berth compartment with two lower and two upper berths) carriages on this train. First class compartments also feature an arm chair, a small table and a toilet with a shower shared between two neighboring compartments. Second class compartments do not have private facilities, there are two toilets (one at the beginning and one at the back of each carriage) and no shower in the second class carriage. Hot boiled water is available in carriages and train attendants provide thermos kettles.
The train has a dining car and a bar with reasonable prices. You can pay in cash USD, EUR, Chinese Yuan or Mongolian tugrik. Roubles can also be accepted in Mongolia. Please ask the restaurant staff for current exchange rates and which currency they can accept as there are no strict rules.
Due to the difference in a railway gauge between Mongolia and China, bogie exchange is necessary to enable cars to run through. Russia and Mongolia use a wider gauge of 1,520 mm which is the second most widely used gauge in the world whereas China uses so called normal (or standard) gauge of 1,435 mm width. Bogie exchange takes place at Erenhot (or Erlian) - a city located in the Gobi Desert in China on the border with Mongolia. The town across the border in Mongolia is called Zamyn-Uud.
Border control
At border control you will be requested to leave the train, take all your luggage and go through the security check. You will be able to use the toilet facilities located at the railway station.

Train carriages
Restaurant
2nd class carriages (9 compartments, 36 berths in each carriage), two toilets in a carriage
1st class carriages (9 compartments, 18 berths in each carriage, one upper and one lower berth), one toilet with a shower shared between two compartments
Train photos