Home
Holiday Planner
Adventure and Discovery
Snowmobile Safari to the Snowy Domes of Kizhi (KL-05)
Snowmobile Safari to the Snowy Domes of Kizhi (KL-05)
6 days
Choose your date
Select a date
Select a date
21 February 2021
06 March 2021
or
Choose your own date
Book now
Inquire
Compare tours
Snowmobile Safari to the Snowy Domes of Kizhi (KL-05)
You will start this exciting 6-day tour from the beautiful "Venice of the North", St. Petersburg. In a very short time you can take in the history and culture of this truly unique and memorable city and explore its major attractions. From there you will visit Karelia, in the Russian Northwest, with a vast areas covered in forests, thousands of rivers and lakes, two National Parks and several Nature Reserves. Among the numerous cultural sights of Karelia, Kizhi Island is the most famous, with a unique complex of wooden buildings, included in the UNESCO World Heritage List: a beautiful example of authentic Russian culture.
You will feel like a real arctic pioneer riding a snowmobile on the frozen lake of Onega, the second largest in Europe, through the surreal beauty of frozen desert covered with fluffy Russian snow – and there will be plenty of it, for sure, as well as unforgettable memories of your amazing holidays in the heart of the Russian North!
Itinerary
Dates & Prices
Reviews
Accommodation
Add-ons
Need to Know
Tour details
Day 1
St. Petersburg
Arrival Transfer to the Railway Station. Departure to Petrozavodsk
Arrival in St. Petersburg. Our driver will meet you in the arrival sector with a Go Russia sign board. Transfer to the railway station. Departure to Petrozavodsk by an overnight train.
Day 2
Petrozavodsk
Snowmobile Ride to Kizhi Skerries along the Beautiful Onego Lake
Meeting at the railway station, transfer to a café, breakfast. After breakfast you will receive equipment and safety briefing and snowmobile driving training. Then off we go! We will have a snowmobile ride along the beautiful Onego lake - the 2nd largest lake in Europe - and its numerous islands. Snack lunch on the way. Arrival and accommodation in a guest house. Dinner. Daily distance: 85 - 100 km (55 - 65 miles), on lake depending on the ice situation near Petrozavodsk.
Day 3
Kizhi
Snowmobile Excursion to Kizhi Island
Breakfast. Today we will have a guided snowmobile excursion to Kizhi island. You will be driving among the beautiful Russian churches. The Kizhi museum is one of the most interesting cultural sights in the Northern Russia, an open-air museum of wooden architecture with an amazing creation of the XVII-XIX centuries' masters of the Russian North – an ensemble of traditional wooden structures - church, mills, barns, and Russian houses (izbas). It is also included on the UNESCO World Heritage list. After visiting the Kizhi Museum we will head for the Kizhi Necklace – the islands of the Onego Lake with old wooden chapels surrounding the Kizhi island like a precious necklace. Lunch en route. Return to the guesthouse. Dinner. Russian sauna. Daily distance: 40 - 60 km, on lake (25-40 miles). Note: the day itinerary might be changed depending on the ice condition on the Onego lake
Day 4
Petrozavodsk
Snowmobile Ride to Petrozavodsk. Departure to St. Petersburg
After breakfast we will start our last day of adventures and discoveries. We will have a snowmobile ride to Petrozavodsk enjoying beautiful winter Karelian landscapes. Lunch en route. Upon arrival to Petrozavodsk russian sauna to wash off the fatigue before the train. Dinner. Transfer to the railway station to take the train back to St. Petersburg. Daily distance: 85 - 100 km (55 - 65 miles), on lake depending on the ice situation near Petrozavodsk.
Day 5
St. Petersburg
Arrival in St. Petersburg. Transfer to the Hotel. Free Day
Arrival in St. Petersburg. Our driver will meet you with a Go Russia sign board at the beginning of the platform. Transfer to the hotel. Free day on your own to discover the city for yourself with optional excursions available to book.
Day 6
St. Petersburg
Airport Departure Transfer from the Hotel
Transfer to the airport. Our driver will meet you with a Go Russia sign board at the hotel lobby.
Tour Dates & Prices
Book Now
When you choose to travel with Go Russia, you are assured of the highest standards of service for every element of your holiday, with the class of hotel as the only difference between our packages.
All our hotels have been carefully selected and personally tested by Go Russia product development team. They have been chosen for their central location, available facilities, tastefully designed interiors, and friendly service and customers' feedbacks. Please note all our hotels are recommended on Tripadvisor and have above average ratings. Please view hotels details below.
On all our city-break tours we also offer early-check / late check-out option in hotels as well as extra nights. Please
view prices
.
Hotel Nevsky Grand St. Petersbrug 3*
Hotel Nevsky Hotel Grand is ideally located in the center of St. Petersburg, and within easy walking distance of the famous landmarks of St. Petersburg - such as Hermitage; Kazan, St. Isaac's and Savior on Spilled Blood Cathedrals; Russian museum. The hotel features elegant interior and cozy homelike atmosphere. The hotel's 135 guest rooms and 5 suites are designed in the modern style with a touch of antique, complimented by the technological amenities, including telephone, free WiFi, interactive satellite television, safe, air-conditioning system. There is a hall on every floor with soft drinks, coffee and tea, open 24 hours a day.
Learn more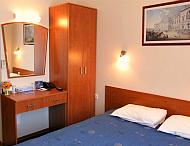 Please read
notes
at the bottom of the table to learn more about the meaning of each pricing section.
Prices are based on two people sharing a snowmobile. Single supplement is payable if you require single accommodation along the route.
Travel dates
Excluding flights
Single
supplement
Train upgrade
Book
02/21/2021 - 02/26/2021
$1,445
$95
$125
book now
03/06/2021 - 03/11/2021
$1,445
$95
$125
book now
Prices are based on 1 person per snowmobile. Single supplement is payable if you require single accommodation along the route.
Travel dates
Excluding flights
Single
supplement
Train upgrade
Book
02/21/2021 - 02/26/2021
$1,645
$95
$125
book now
03/06/2021 - 03/11/2021
$1,645
$95
$125
book now
Note on pricing:
All prices are per person, in US Dollars. All included services are listed in the tour dossier and the right-hand side column, section "Included".
Price "Excluding flight" does not cover airfare, you are free to book your own flights. Alternatively we can quote an airfare for you. We advise not to delay with booking your tour as airfares may go up.
Single supplement goes towards single room (cabin for cruises) accommodation.
"Train upgrade" supplement means an upgrade for a compartment for 2 people and refers to overnight trains only. Advisable to book if you prefer more privacy and comfort during your overnight train journeys. Read more about train upgrade.
We thrive on feedback! We are very happy to have served thousands of happy customers who travelled with us. Please browse our guestbook below, read our clients' feedback on
Tripadvisor
and also watch a short
customer's interview
sharing her travel experience with Go Russia. To respect our clients' privacy all names are encoded.
The experience of seeing the Kizhi area and the amazing churches was something special. I thought the skidoo adventure was well organised and Anna our interpreter did a very good job. I must say at this point I can not emphasise enough just how good our guide Sveltlana has been. We were also blessed everyday with blue skies and pleasant temperatures, I am sure it is like that all the time! Thank you all again. —
Angelo Montgomery
Everything was very well organised, I felt we were being looked after, we felt safe and were with knowledgeable guides. All of the people we met involved in our tour were very keen to ensure we had a good experience. —
Tasha Lane
The snowmobile safari was excellent with a most capable crew. The 2 night stay in the guest house could not have been bettered, warm, comfortable, great attention paid in producing good food, and jolly in the evenings during which I learnt the proper Russian way to drink Vodka. All in all this was a wonderful adventure. —
Terry Alexander
Wir moechten uns ganz herzlich bei Ihnen bedanken fuer den wunderschoenen Urlaub in Russland. Es hat vom Abflug in Muenchen ueber St. Petersburg nach Petrozavodsk mit der Bahn alles ganz hervorragend geklappt. Wir wussten vor der Reise nicht was uns erwarten wuerde, aber all unsere Hoffnungen wurden weit Uebertroffen. Alles in allem sehr nette Leute, wunderbare Unterbringung und ein ueberaus beeindruckendes Land. Vielen herzlichen Dank fuer Ihre Bemuehungen uns einen unvergessenen Urlaub zu bescheren. —
Ignacio Rhodes
We had an excellent holiday, thanks very much for your help in putting it all together. The different parts all worked very well together, we were met at every stage as planned, the accommodation was comfortable and all the guides were very helpful. We loved the snow mobile trip and the guest house near Kizhi. I'm very impressed with your website, the information was very helpful as preparation for the trip. —
Ashley Patterson
It was a superb holiday that was well organised - we would not hesitate to go again! It was cold (as expected) but having been warned we were sometimes over-warm! We enjoyed the holiday immensely - and have already recommended it to friends and colleagues. Thanking you again for helping to organise a memorable holiday! —
Carl Watson
General
We highly recommend you to review all the information following the links below before your tour.
Personal Equipment
We will provide snowmobile hire (Polaris Sport Touring 550 or similar), petrol, full equipment (overalls, helmet, under-helmet hood, waterproof shoes, gloves). You will need to bring your
Personal Equipment
on a tour.
Other Information
Please read these important sections for your tour: