Russian Museum Guided Tour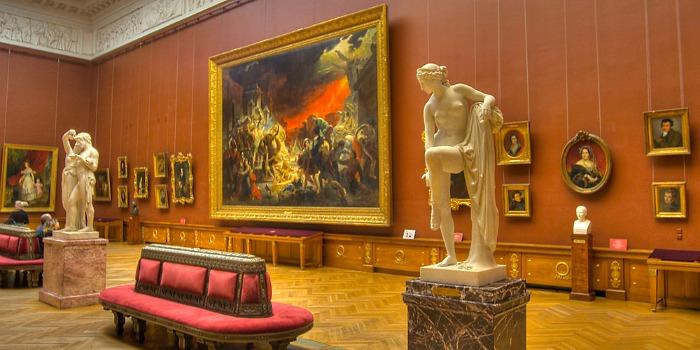 St. Petersburg is often called the museum under the open air, city hosts approximately 200 museums and exhibition halls, and each one is unique and interesting in its own way!
With over 400,000 items, the Russian museum along with the Tretiakov gallery in Moscow, is the world's largest repository of Russian art and represents the most important artistic trends in the Russian art from its beginning in Byzantine icons or the avant-garde works.
The permanent exhibition of the State Russian Museum presents the works of Russian and Soviet artists and covers the period from the 11th century till modern days. Along with paintings, the museum boasts unique collections of works of folk art, decorative and applied art, and numismatics.
The Russian Museum holds a really unique collection of icons of the 12th-17th centuries, treasuring the works by such masters as Andrey Rublev, Dionisy, Simon Ushakov and others. In the Russian Museum, one can enjoy the works by Ilya Repin, Michail Vrubel, Vasiliy Kandinsky and other world-famous Russian artists.
The museum was founded thanks to Alexander III, who actively collected Russian art in the hope one day founding the first public museum of Russian art. His dreams were realised only after his death when his son, the last tsar of Russia Nikolai II, opened the Russian museum in 1898. The museum collection expanded considerably after October revolution when Bolsheviks expropriated works of arts from aristocratic families and churches.
The Mikhailovsky Palace, the main museum building where the central exposition and the basis of the museum collection are located, was built to the design of outstanding architect Carlo Rossi.