City Tour & Guided Visit to the Peter and Paul's Fortress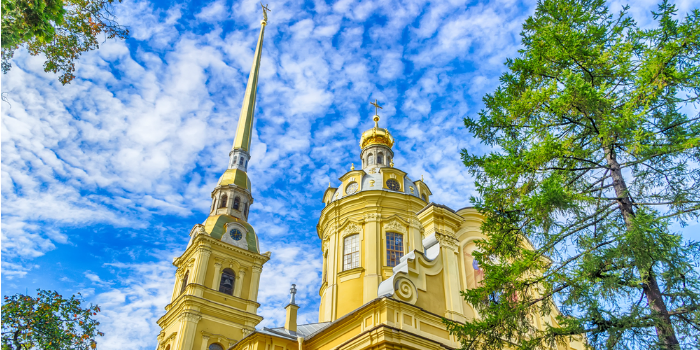 After your guided
city tour around St. Petersburg
you will visit Peter & Paul's Fortress. Built on the small Hare Island to secure Russia's position on the River Neva delta and in order to protect the Neva lands, regained during the Northern War, from possible attacks by Swedish troops, the Peter and Paul Fortress did not actually see the actual combat until 25 October 1917. For more than 200 years its cannons did no fire a single shot in a battle!
The sacred site in the fortress complex belongs to the Cathedral of Peter and Paul. The cathedral was built in 1713-1733 on the site of a wooden church founded in honor of apostles Peter and Paul. The design, by architect Tresini, features a gilded spire 122.5 meters high, which is a dominant feature of the city skyline.
The history of the fortress is a gruesome one with thousands of forced laborers died during its construction, building the fort in just seven months! And just after 10 years after its completion, fortress has been transformed into political prison. One of the first prisoners was Peter's I son, Tzarevich Alexei, who was suspected in conspiracy against his father. He was tortured inside these walls and died in 1718. Other prominent figures imprisoned here include the first Russian aristocratic political dissident writer Alexander Radyshev, leaders of Decembrists uprising Bestuzhev-Rumin, Pestl and Ryleev, world famous novelist Dostoevskiy, Lenin's brother Alexander, writer Gorky and many others.
Recently this doughty fortress-cum-prison has had many of its buildings converted into museums and features a splendid cathedral containing the tombs of the Romanov monarchs.