Half day Guided Tour to Tsarskoe Selo - Catherine Palace & Amber Room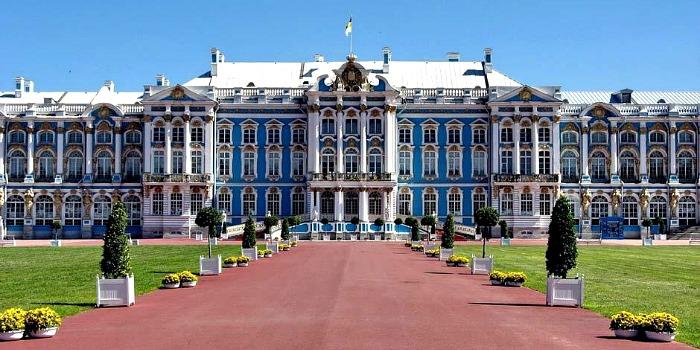 Tsarskoe Selo is a town to the south from St. Petersburg. It was the main summer residence of the royal family, hence the name (Tsarskoe Selo means tsars village). The second name of the town is Pushkin. It was called so in honor of great Russian poet Alexander Pushkin, as his life was closely connected to this town. Mostly known for its marvellous Catherine Palace and park, it also has Alexander Palace. Many historical films, dedicated to Russian history and tsars, were shot in the interiors of the palace and other sights of Tsarskoe Selo.
The main landmark of Pushkin is Catherine Palace. It features splendid interiors, designed by eminent architects Rastrelli, Cameron, Stasov and Monighetti. The collection of the palace includes a large number of precious works of art, such as furniture, porcelain, statues, canvases and so forth, including personal belongings of Russian emperors and members of their families.
One of the most remarkable interiors of Catherine Palace is the Amber Room. During the palace excursion you will get to know about the mysterious history of the Amber Room and see the restored interiors. The room was first installed in the Winter Palace, but in 1755 Empress Elizabeth ordered Francesco Rastrelli to move it to the Catherine Palace. The individual amber panels were carried from St Petersburg to Tsarskoe Selo by 76 guardsmen in six days.
During the Second World War occupying troops removed the amber panels in September 1941, and they were brought to Alfred Rode, head of the Konigsberg Art Museum in Kaliningrad. Part of the Amber Room was last seen on display in Konigsberg Castle, before being hidden in its catacombs. From here the mystery starts. There are stories that the amber was burnt in a bomb attack, that it was moved to Germany on the personal order of Hitler, that it remains in the subterranean vaults of the castle, which stretches for kilometers. The most recent theory is that, whilst being transported to Germany, the panels were dumped in a mine on the Baltic Coast.
During the tour you will be told the story of Catherine Palace construction, and will get to know about the tragic pages of the palace history, connected with the Nazi occupation during the World War II.