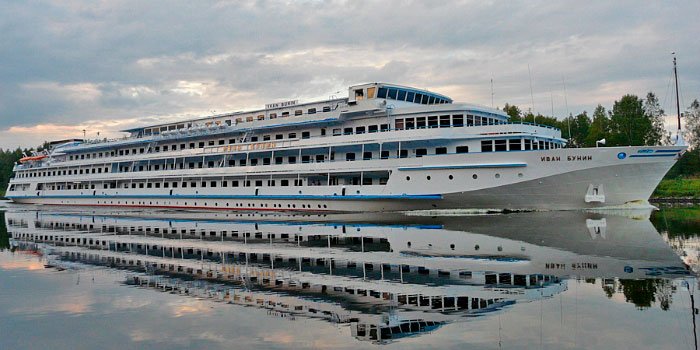 General
The motor ship Ivan Bunin is one of the modern vessels on the Russian waterways and it can be compared to a 4* hotel. It was completely refurbished in 2010 (built in Germany in 1985). If you are looking for more comfort during your river voyage MS Ivan Bunin will be a perfect choice.

There are three bars, a small souvenir shop, music salon, dance hall and beauty salon.

All cabins are outside facing with a large picture window and are equipped with mini-fridge, satellite TV, radio, safe. The cabins also feature private bathrooms of European standard (with separated shower area). Laundry service is available. The ship is not equipped with wheelchair access and elevator. The total passenger capacity is 190 persons.
Technical Characteristics
| | |
| --- | --- |
| Length | 129,1 m |
| Breadth | 16,7 m |
| Draught | 2,94 m |
| Passenger capacity | 190 pax |
| Speed | 25,5 km/h |
| Built | 1985, Germany |
| Total rebuilt | 2010 |
| Crew | 110 pax |
Cabins
| | | | | |
| --- | --- | --- | --- | --- |
| | Type of Cabin | Cabin # | Size in meters | Square, in meters |
| 1 | Suite boat deck | 415, 416 | 6.02x4.61 | 27,75 |
| 2 | Junior Suite boat deck | 401 - 414 | 4.32x4.02 | 17,37 |
| 3 | Standard boat deck | 417 - 418 | 4.65x2.16 | 10,04 |
| 4 | Single boat deck | 419 - 426 | 3.60x1.60 | 5,76 |
| 5 | Junior Suite middle deck | 315 - 336 | 4.32x4.02 | 17,37 |
| 6 | Standard middle deck | 311 - 314 | 4.65x2.16 | 10,04 |
| 7 | Standard middle deck | 301 - 310 | 4.00x2.00 | 8,00 |
| 8 | Standard main deck | 201 - 234 | 4.02x2.16 | 8,68 |
| 9 | Quad lower deck | 107 - 114 | 5.72x2.05 | 11,73 |
Total number of cabins 96: 50 TWIN, 8 single, 2 suites, 36 junior suites
Deck Plan

Photogallery