MS Shostakovitch - 4*
Cruise ship on Russian waterways
Overview
MS Shostakovitch (former Volga Star, MS Igor Stravinsky) was built in Germany in 1983 and completely refurbished in 2010 - 2011 ensuring it meets current international standards. It is a large river vessel designed for comfort. The ship features outside staterooms, affording majestic views of the passing countryside, and all air-conditioned. The two dining rooms offer both Continental and Russian cuisine, as well as the specialties of the surrounding regions, all served in a friendly shipboard atmosphere.
Passenger capacity - 208 people. Unfortunately the ship is not equipped with wheelchair access and elevator.
Total number of cabins:
Suite cabins - 2
Junior Suite cabins - 34
Twin Comfort cabins - 32
Twin Standard cabins - 32
Quad Standard cabins - 2
Ship Facilities
Onboard facilities include a spacious reception hall, two restaurants offering a choice of Russian and European cuisine and two onboard bars. There's a dance lounge, observation lounge, sun deck with seating, doctor and library. Guests can also enjoy an onboard souvenir shop, laundry service, hairdresser and sauna. Public areas are climate controlled. Evening entertainment is laid on, with a program that features live concerts, quizzes and talks on Russian culture and history. Attentive staff ensure that service standards are high.
The ship offers a choice of single, double and triple occupancy cabins. With the exception of the lower deck, all cabins are outside, most with large, opening picture windows designed to maximise the view and provide fresh air. All cabins are en suite and have personal air conditioning and heating controls enabling occupants to select their own temperature. Also, the space is large enough to accommodate a wardrobe. Each cabin has a TV, radio, safety deposit box. With the exception of standard twins, all have hair driers. Junior suites and comfort premium twins have mini refrigerators.
Techical characteristics
| | |
| --- | --- |
| Length | 129,1 m |
| Breadth | 16,7 m |
| Draught | 2,9 m |
| Passenger capacity | 208 pax |
| Speed | 25,5 km/h |
| Built | 1983, Germany |
| Total rebuilt | 2011 |
Cabins
Type of Cabin
Size
(in meters)
Surface
(in meters)
Beds
Bed size
Ņabin #
Suite
boat deck
3.8 x 4.6, 2.6 x 2.6
25.02
1, double
1.6 x 2.0
419, 420
Junior Suite
boat deck
4.0 x 4.6
18.4
2, can be moved
1.6 x 2.0
(0.80 x 2.0)
403-406
411-414
Junior Suite
upper deck
4.0 x 4.6
18.4
2, can be moved
1.6 x 2.0
(0.80 x 2.0)
315-318
323-328
337-340
Junior Suite
main deck
4.0 x 4.6
18.4
2, can be moved
1.6 x 2.0
(0.80 x 2.0)
209-212
217-220
225-226
Twin comfort
boat deck
2.45 x 4.6
11.27
2, attached to wall
​0.80 x 2.0
401-402
407-410
415-416
Twin comfort
upper deck
2.45 x 4.6
11.27
2, attached to wall
​0.80 x 2.0
313-314, 319-322
329-332, 335-336
341-342
Twin comfort
main deck
2.4 x 4.0
9.60
2, attached to wall
​0.80 x 2.0
207-208
213-216
221-224
Twin standard
boat deck
2.1 x 4.6
9.66
2, attached to wall
​0.80 x 2.0
417-418
421-422
Twin standard
upper deck
2.1 x 4.1
8.61
2, attached to wall
​0.80 x 2.0
301-312
343-344
Twin standard
main deck
2.1 x 4.6
2.1 x 4.0
9.66
8.40
2, attached to wall
​0.80 x 2.0
201-206
227-232
Quad
lower deck
2.0 x 6.6
13.2
4, attached to wall
​0.80 x 2.0
101-102
Deck Plan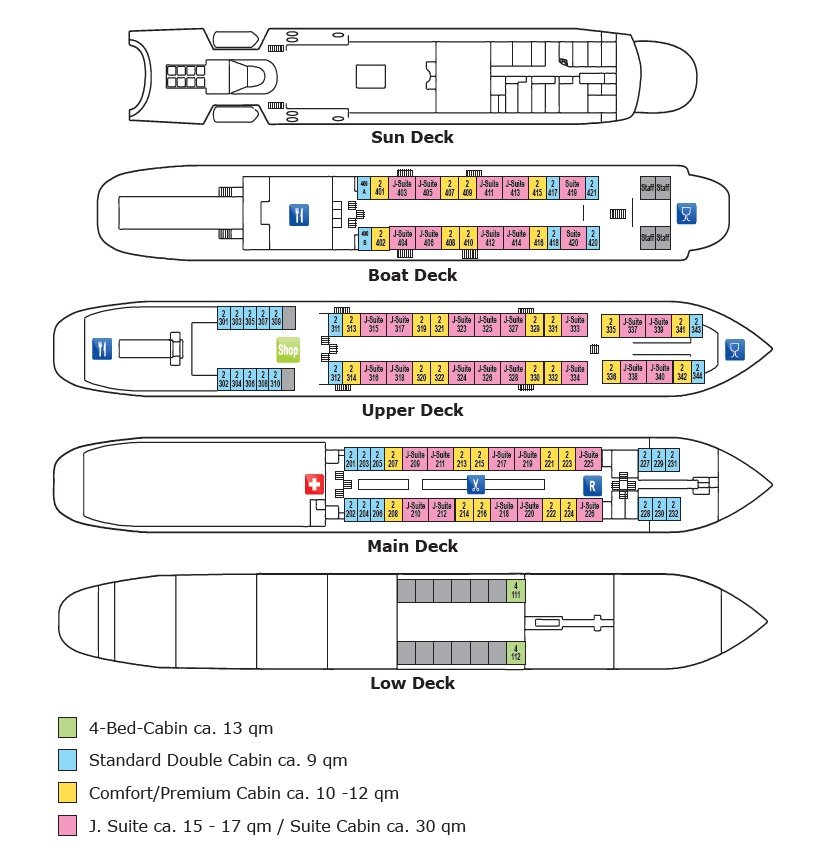 Photogallery