MS Mustai Karim - 5*
Luxury cruise ship on Russian waterways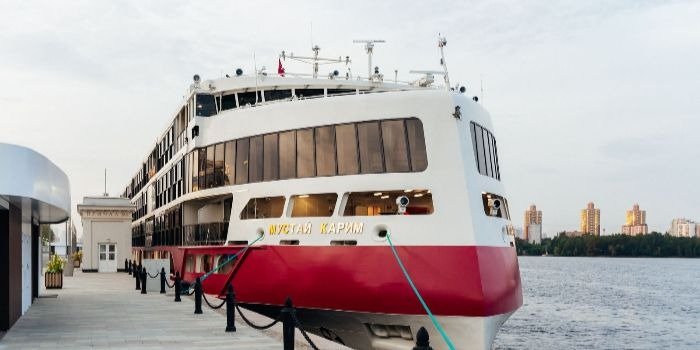 Overview
Comparable in quality to a floating five star hotel, the luxurious MS Mustai Karim was built in 2019. It takes its name from the illustrious poet, writer and playwright who was awarded People's poet of the Bashkir Autonomous Soviet Socialist Republic in 1963 and who won the Lenin Prize in 1984.
This state of the art ship is modern and very comfortable, with large picture windows in the public spaces to facilitate effortless sightseeing. There's also a lift.
The ship is fitted with modern navigational facilities and maintains an impressive speed of 22.5 km per hour. Technical specifications: Length – 141 m. Passengers - 338 people. Electricity - 220 V.
Ship facilities
On the main deck there's a restaurant plus a bar area adjacent to the salon. This spacious ship also boasts a conference hall, medical room and reading lounge, as well as a souvenir shop and spa. There are several social spaces: the bar on the panorama deck is convenient for daytime while the awning deck has a pub perfect for enjoying a beer in the evening. A program of activities is laid on for cruise goers aimed at showcasing Russian culture and cuisine.
Conference hall
Medical room
Spa
Souvenir store

Beer bar
Reception
Reading lounge
Lift
Cabins
Cabins are contemporary in appearance, with a muted color scheme mixing calming, neutral tones. All cabins are outside and feature floor-to-ceiling windows. Standard cabins are equipped with a wardrobe, satellite TV, safe, fridge, hair dryer, radio, telephone, power sockets and a shower, while suites have a bathtub.
2 Junior Suite cabins on the Sun Deck
52 Deluxe cabins on the Sun Deck
48 Deluxe cabins on the Boat Deck
4 Standard cabins on the Boat Deck

46 Deluxe cabins on the Upper Deck
2 Standard cabins on the Upper Deck
1 Presidential Suite with balcony on the Upper Deck
8 Suites (2 with balcony) on the Upper Deck
Suites details:
Presidential Suite 257 - size 44.34 m2, with balcony
Suite 255 - size 29,88 m2 (features a living room and a bedroom), no balcony
Suite 251, 253, 252, 254, 256 – size 36,59 m2, no balcony
Suite 258, 259 – size 23,16 m2, with balcony
Deck Plan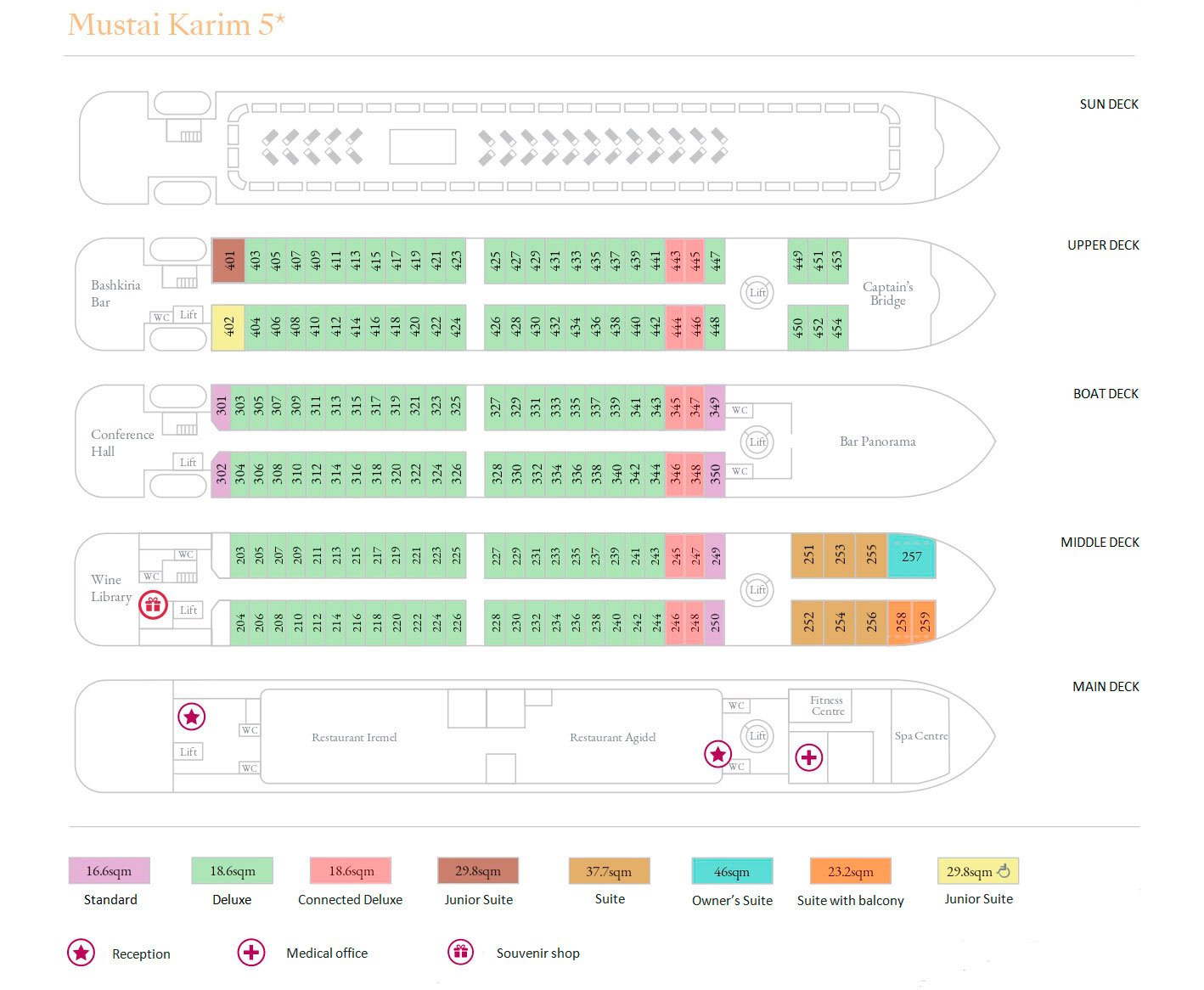 Photogallery