MS Petr Tchaikovsky - 3*
Cruise ship on Russian waterways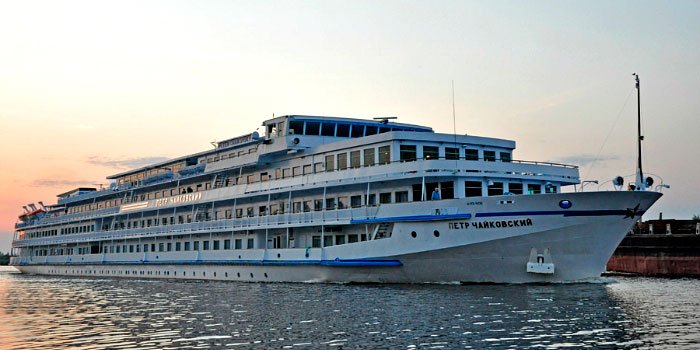 Overview
MS "Petr Tchaikovsky" is a four deck vessel built in Germany in 1977, refurbished in 2011. It is named after the famous Russian composer Petr Tchaikovsky.
Today the vessel meets the highest demands of our clients, it features a spacious restaurant with panoramic view, 2 stylishly decorated bars, a comfortable conference hall, a souvenir shop, doctor's office. Laundry service is available onboard.
All cabins are outside facing with a large picture window, climate control, private bathrooms. Unfortunately the ship is not equipped with wheelchair access and elevator.
Total number of cabins 110:
Junior Suite cabins - 32
Twin Standard cabins - 67
Single Standard cabins - 11
Technical characteristic
| | |
| --- | --- |
| Length | 129,1 m |
| Breadth | 16,7 m |
| Draught | 2,94 m |
| Passenger capacity | 209 pax |
| Speed | 25,5 km/h |
| Built | 1977, Germany |
| Total rebuilt | 2011 |
Cabins
Type of Cabin
Surface
(in meters)
Bed size
Window /
porthole
Ņabin #
TWIN cabin (standard)
Lower deck
15
2.0 x 0.90
2 portholes
118
11
2 portholes
120
TWIN cabin (standard)
Main deck
8.5
1.90 x 0.85
1 window
201 - 234
Junior suite (small)
Upper deck
14
1.90 x 1.60
2 windows
301 - 308
SGL cabin
Upper deck
7
1.90 x 0.85
1 window
309, 310
TWIN cabin (standard)
Upper deck
9
1.90 x 0.85
1 window
311 - 338
Junior suite (large)
Upper deck
18
1.90 x 1.60
2 windows
339 - 342
SGL cabin
Upper deck
7
1.90 x 0.85
1 window
343, 344
Junior suite (small)
Upper deck
14
1.90 x 1.60
2 windows
345 - 352
Twin cabin (standard)
Boat deck
9
1.90 x 0.85
1 window
401 - 403
Junior suite (large)
Boat deck
18
1.90 x 1.60
2 windows
404 - 415
SGL cabin
Boat deck
7
1.90 x 0.85
1 window
416 - 422
Deck Plan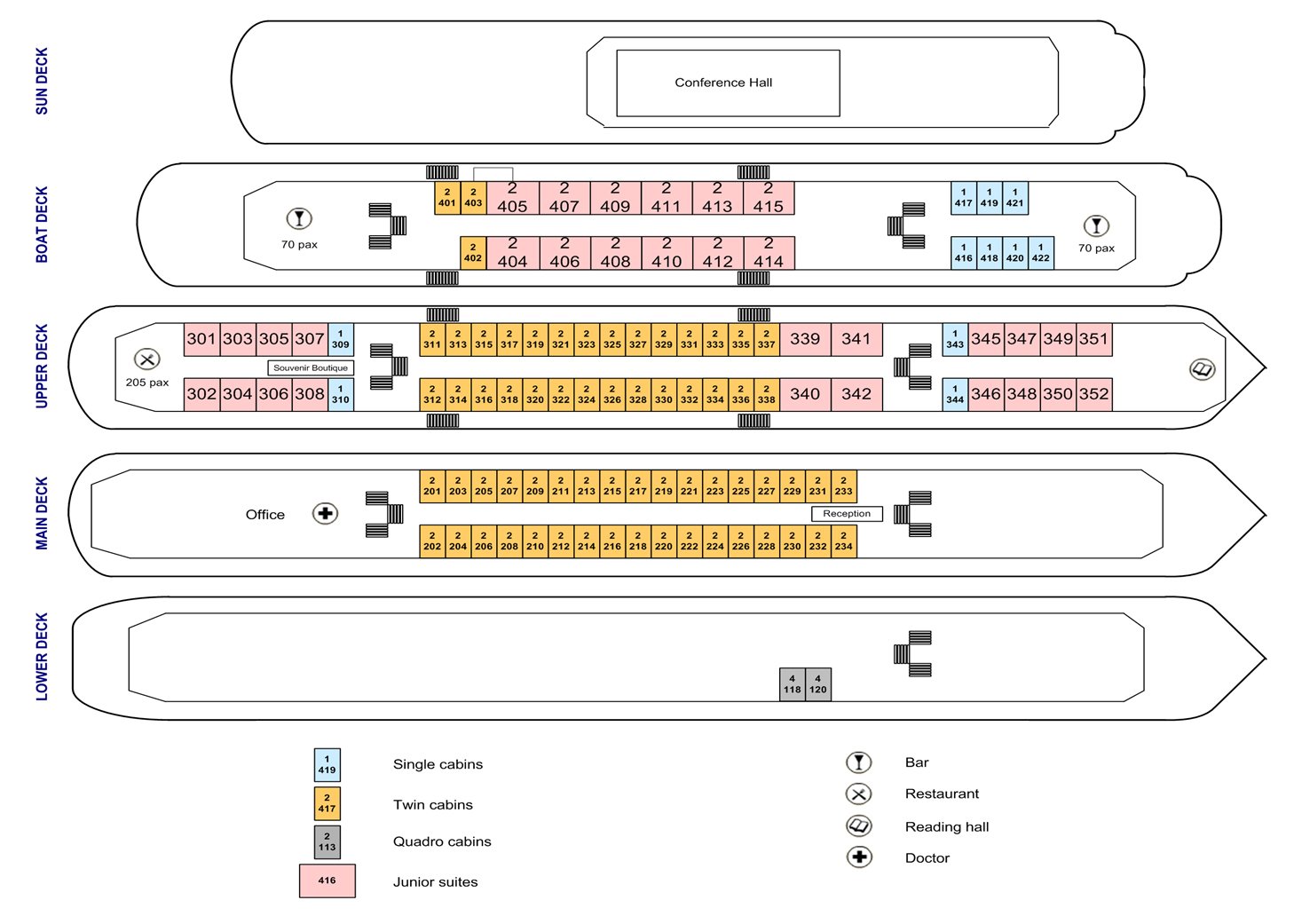 Photogallery