Kremlin in Izmailovo Guided Tour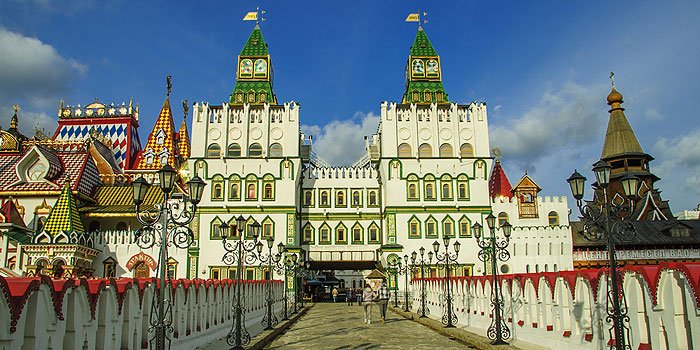 The Izmailovo Kremlin is a regular venue for mass celebrations and national outdoor fetes, exhibitions, trade fairs and festivals devoted to Russian handcraft and national folk arts. Russian history is "coming back to life" in theatrical performances and animated shows. You can also take part in the process of producing artworks of the national applied and decorative arts.
With its unique Vodka museum this is the best place to find out more about history of this ever so popular spirit. It is quite symbolic that the museum has been transferred from St. Petersburg to Moscow – place where this drink was invented in 15th century.
Whole complex of educational and entertainment programs is dedicated to children.
Performances of concert groups, mass games, competitions, fun fights, horse riding, battles of epical heroes, fisticuffs, and pancake week parades - all these are an essential part of cultural life in Kremlin in Izmailovo.
At the beginning of your tour of Kremlin in Izmailovo you will be met by real Russian Tsar and Tsaritsa and welcomed in traditional Russian way – with bread and salt, for those who can present an ID, a shot of vodka will be on the menu as well! After short introduction we will invite you to participate in various activities depending on your interests, age and also season – folk games such as khoduli walking, rope pulling, treasure hunting, troika riding… We finish off our exciting tour by offering your to spend some time at Izmailovo market.
Izmailovo, which is named after the estate where Peter the Great grew up, nowadays mostly known for its flee market, which is a treasure store of old and new. All usual souvenirs are on sales, including Soviet memorabilia, matrioshka dolls, as well as antique silver and jewelry, samovars, icons…