Kolomenskoye Estate Guided Tour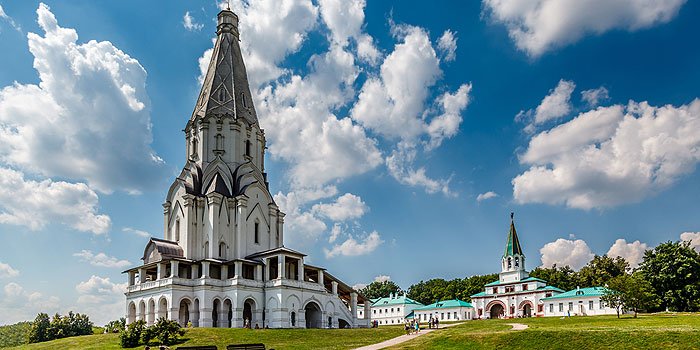 Kolomenskoye estate is located on the bank of the Moscow River, 10 km southeast of the Kremlin and surrounded by over 350 hectares of ancient woodland, which now is a preserve zone, included in the UNESCO World Heritage List
Kolomenskoye was first mentioned in chronicles of Prince Ivan Kalita in 1339. Since the 14th century Kolomenskoye had been the summer residence of Great Moscow Princes, and then - Russian tsars. Peter the Great spent his childhood in Kolomenskoye. After capturing Azov in 1696 and Poltava victory in 1709 Peter spent some time in here, before his solemn entrance to Moscow.
Kolomenskoye features many vintage wooden structures, such as beautiful churches and tent-roofed constructions. The earliest building, which has survived until the present is the Church of Ascension, built in 1532 by the Moscow Grand Prince Vasily III in order to thank God for the birth of his son and heir to the throne, who later became Ivan the Terrible. It was the first tent-roofed church to be built in stone. The impressive Church of Our Lady of Kazan was built in 1644 at the time of Russian Tsar Alexis reign.
There is also the stunning recently reconstructed Wooden Palace of the Tsar Alexey Mikhailovich Romanov often referred to as an Eighth Wonder of the World. You will have a unique chance to see the way of life of the Russian tsars. The building represents a huge maze of intricate corridors and 250 rooms, built without using saws, nails, or hooks. The palace is also famous for its fairytale roofs. The interior décor is bright and varied: here you will find intricate carving on architraves and window cornices, colorful wall and ceiling paintings and ornamental upholstery of furniture and walls. All this rich décor turns the whole building into a small fairy-tale palace. Although it was only a summer palace, it was the favorite residence of the tsar. The future Empress Elizabeth was born in the palace in 1709, and Tsar Peter the Great spent part of his youth here. Upon the departure of the Russian court to St. Petersburg, the palace fell into disrepair and Catherine II ordered to demolish the wooden palace and replaced it with a more modest stone building. The Moscow government completed reconstruction works in 2010.
Nowadays Kolomenskoye Museum-Preserve is one of the most picturesque and popular places in Moscow. Kolomenskoye hosts a number of festivals and traditional Russian religious celebrations such as Maslenitsa, Easter Sunday and others.