Red Square Guided Tour & Visit to St. Basil`s Cathedral & Lenin Mausoleum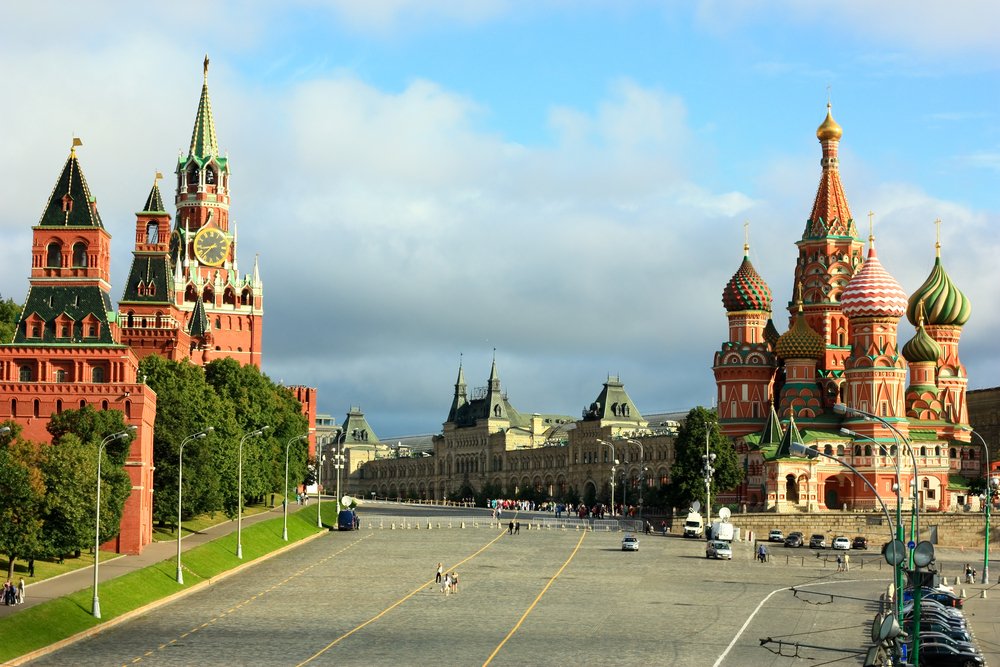 Red Square (Russian: Krasnaya ploshchad) is indelibly associated with images of stone-faced Soviet leaders standing in the bitter cold as panoply of military might rumbles past their review stand atop Lenin's Mausoleum. Although the Square is no longer witness to imposing May Day parades, it remains a profoundly impressive space. Delimited by the stark severity of the mausoleum, the expansive facade of the world-famous GUM department store, and the exuberant colors of St. Basil's Cathedral, Red Square is, and deserves to be, the requisite first stop for any visitor to Moscow. In 1990 Moscow Kremlin and Red Square were included in the UNESCO famous World Heritage List.
During the guided tour you will visit the Red Square, St. Basil's cathedral, Lenin's mausoleum and GUM department store.
St. Basil's
rises from Red Square in an irresistible profusion of colors and shapes. Its montage of domes, cupolas, arches, towers, and spires, each bearing a distinctive pattern and hue, have fascinated visitors since its construction in the 1550s. Although St. Basil's was built to commemorate Ivan the Terrible's capture of the Mongol stronghold of Kazan and is properly named the Cathedral of the Intercession, its popular name has long associated it with a ragged prophet who foretold the Moscow fire of 1547. The appeal of St. Basil's is best appreciated by a leisurely stroll around its perimeter, as its wondrous exterior decoration belies a remarkably plain and cramped interior.
Lenin's mausoleum
was designed by Alexei Shchusev in 1924, during a period in which the strength of the Russian Avant-Garde had not yet been decimated by Stalin's enforced return to heroic realism and conservative classicism. As a result, the founder of the Soviet state is blessed with a resting place that is a rare masterpiece of modern architectural simplicity. Faced with red granite (for Communism) and black labradorite (for mourning), the Mausoleum is essentially a pyramid composed of cubes. Although the mausoleum has been stripped of the honor guard that once flanked its entrance, announced plans to remove Lenin's body seem to have lost their impetus in the last couple of years. The once lengthy line for admission has dropped off considerably, and a visit today is accompanied by a rather bizarre sense of having entered a place that has been forgotten by time. Lenin (or at the least the alleged wax copy of his body) lies still in his crystal casket, seemingly unaffected by the vast changes that have swept over Russia.
GUM.
Taking up the entire East side of Red Square, and looking more like a palace than a shopping center, the GUM building offers designer shopping like few before will have experienced. Built at the turn of the 19th Century the complex boasts an elegantly-decorated interior, comprising of three parallel arcades, centerd around a fountain and roofed by a splendid glass ceiling - magnificent! Whole afternoons can easily be wasted browsing through flagship stores of the likes of Christian Dior, Hugo Boss and Puma. And with Bosco Bar and Cafe onsite you don't have to go far for a decent drink either!