Guided Visit to the St. Isaac's Cathedral in St. Petersburg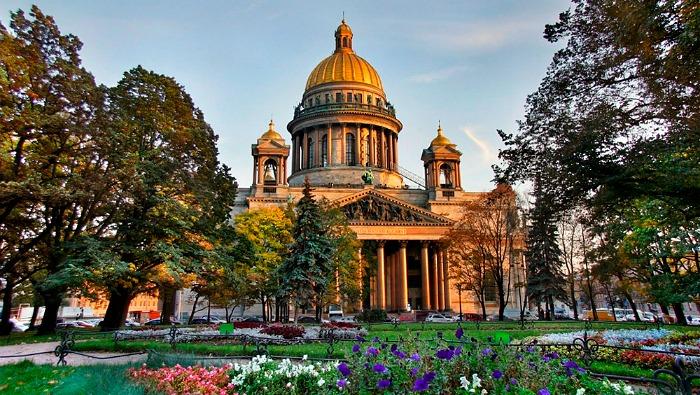 The gleaming golden dome of the St. Isaac's Cathedral soars majestically above the rooftops and is visible from Gulf of Finland. It is one of the finest architectural monuments of the XIX century and famous landmark of St. Petersburg. St. Isaac's Cathedral is the forth largest domed cathedral in the world, after the Cathedral of St. Peter in Rome, the Cathedral of St. Paul in London and the Cathedral of St. Maria in Florence.
The history of St. Isaac Cathedral dates back to the construction of the small wooden church commissioned by Peter the Great which was built in 1710 close to the Admiralty. The temple was consecrated in the memory of Saint Isaac Dalmatian, the saint patron of Peter the Great. It has witnessed many historical events. Here on the 19th of February 1712, Peter the Great and Ekaterina Alexeevna, the future Empress Catherine the Great, were married. And in 1723, Peter I signed the special order, according to which the sailors of the Baltic fleet had to swear allegiance only in St. Isaac's Church.
In 1809 by submitting no less than 24 designs in various styles such as Byzantine, Romanesque, Gothic, Indian, Chinese, a French-born architect Auguste Montferrand, was commissioned by Alexander I to build the most spectacular church - a prime landmark of the Russian Imperial capital. The construction works were started in 1818 and lasted for almost 40 years. The solemn opening and the consecration of St. Isaac Cathedral declaring it the cathedral of Russian Orthodox Church took place on the 30th of May 1858. The temple became the city's main cathedral where the grand celebrations, impressive divine services and christenings of the members of the royal family were held.
Under the Soviet rule St. Isaac's Cathedral housed the Museum of Atheism and the building was protected under the status of important historical architectural monument. Mysteriously the cathedral suffered no damages during World War II. It wasn't damaged during the numerous bombing of the city although some splinters marks on the columns are still visible.
Today St. Isaac's Cathedral is one of the best Russian cathedrals and one of the most popular museums in St. Petersburg. Although it has a capacity of 10,000 people, church services are held only on major occasions and the cathedral serves as a museum.
The visitors are invited to climb the colonnade of the cathedral and enjoy the breathtaking view of the center of Saint Petersburg from the 43-meter height. One hundred and eighty years later the gilded dome of St. Isaac's still dominates the skyline of St. Petersburg.