Half Day Guided Tour to Petrodvorets - Palace, Fountain and Park ensemble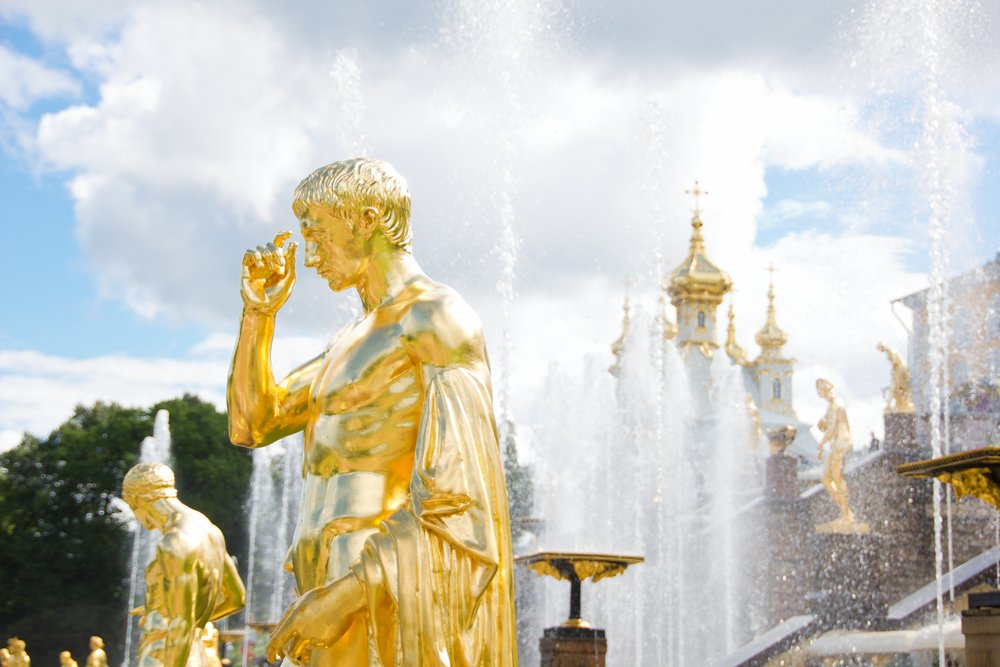 Russia's Versailles, Peterhof (25km west of St. Petersburg) was founded by Peter I, who flushed with the triumph from the Northern war against the Sweden, decided to build sumptuous palace and town beside the Gulf. Although Peter the Great was really advancing with the drafts and labor, the Great Palace hasn't been built until the reign of Empresses Elizabeth, when the court life became more lavish and opulent, reaching its apogee during the reign of Catherine the Great.
After Nazi occupation, Russian authorities have decided that the German name was no longer appropriate and replaced it with the Russian equivalent – Petrodvoretz.
The world-famous palace, fountain and park ensemble of Peterhof is an outstanding landmark of Russian artistic culture of the 18th-19th centuries. The credit for its creation should go to a great number of eminent architects, artists and anonymous folk craftsmen. Its wonderful parks, 176 fountains of various forms and styles, four cascades, majestic palaces, numerous gilded statues of ancient gods and heroes, and remarkable collections of sculpture, paintings and minor works of art make Peterhof a veritable gem of art itself, often called "Capital of Fountains", unique in the world. Its fountains are the feat of 18th century engineering - it uses 30,000 liters of water every second and can work for 10 – 12 hours a day up to five months a year. The largest fountain is Fountain Samson in the center of the Great Grotto representing Russia's subjugation of Sweden.
Petrodvorets was practically razed to the ground during World War II, and what you see today is a faithful reconstruction that stands as a symbol of the nation's post war recovery.
During the tour you will visit the Great Palace, which is the structural center of the Upper Gardens and the Lower Park. It stands on the edge of a sixteen-meter high terrace, adorned with gold statues, the crystal jets of the Great Cascade and the terrace fountains. During the palace excursion you will enjoy its spacious and airy rooms adorned with rich moldings, splendid parquet flooring, exquisite carving, painted ceilings and canvases by great masters.