St. Petersburg City Tour and Visit to the Cruiser Avrora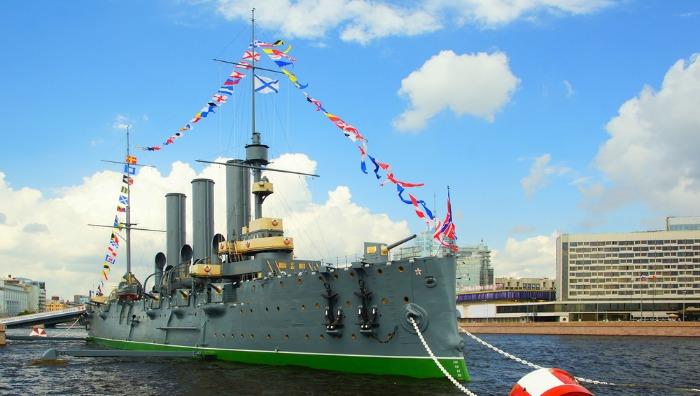 Your guide will tell you the story of the city, the events that have left their scars on its face, its optimistic and dramatic plans for the future, together with anecdotes about its strange, friendly and colorful inhabitants, and answer any questions you might have about this most fascinating of cities.
Additionally to your St. Petersburg guided city tour you will visit the legendary Avrora cruiser, famous for firing the signal of storming of the Winter Palace – official beginning of 1917 Revolution.
Located in Petrograd site and docked just a few hundred yards upstream from the Cabin of Peter the Great, this historical ship is often mocked as the world's deadliest weapon – with one shot it changed Russia's history for 75 years!
The cruiser, built in St. Petersburg between 1897 and 1900, took an active part in the Russo-Japanese War of 1904-05 and participated in the Tsusima battle, in which most of Russia's Pacific fleet was destroyed. After the war the ship was used for personnel training and during the October revolution of 1917 its crew was the first from the Baltic Fleet to join Bolsheviks and gave the signal (by firing a blank shot) to storm of the Winter Palace, which was being used as a residence by the democratic, but largely ineffective Provisional Government.
During World War II and the 900-day Siege of Leningrad the battleship's guns were deployed near the frontline. After the war the ship was carefully restored and used as a free museum and training ship for cadets from the nearby Nakhimov Navy School.
Besides the Cruiser Avrora you will also see all the main highlights of St. Petersburg during your guided city tour: the Winter Palace, Nevsky Prospect, Kazan Cathedral, the Admiralty, Palace Square, the Peter and Paul Fortress, the Naval Museum, St.Petersburg University, the Menshikov Palace, the Fine Arts Academy, the Bronze Horseman, Alexandrinsky Theatre, Smolny Cathedral, the monument to Catherine the Great, Fine Arts Square, the State Russian Museum, the Church of Resurrection on Spilled Blood as well as numerous canals and rivers and beautiful bridges across them.
Aurora opening hours
: 11:00 - 18:00, closed Mondays, Tuesdays.